Discover more from COOK WITH LERATO
Sunshine on your plate with a good dose of African Magic. Travel with me for treasured recipes & stories from Africa and beyond.
Over 4,000 subscribers
Will you be joining us? Ghana 2024
Unforgettable Experiences at Africana Retreats
Welcome to COOK WITH LERATO! Letters for you with ravishing recipes, stories & a good dose of African magic. If you haven't joined our community, what are you waiting for? Click below to subscribe or upgrade.
---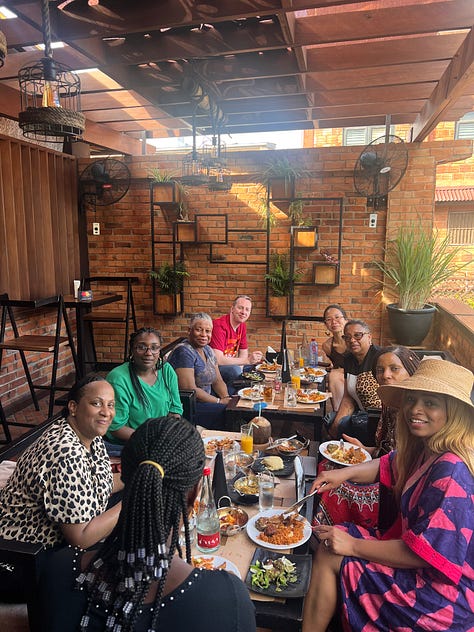 Where cultures unite and hearts ignite!
Travel across Africa with me, for an experience of a lifetime inspired by Africana Cookbook.
As a little girl, traveling with my family, crossing borders and catching flights within Africa and beyond always brought me great joy. A great treat I always looked forward to, until it became my way of life and a great source of inspiration in my work and purpose. Travel exposed me to different rich cultures, food and people, that have shaped me as a woman, a cook, and a teacher.
Over the years, I have enjoyed bringing people together from across the world, to share memorable experiences at my feasts. Now with my cookbook AFRICANA, I can hold your hand as we enjoy glorious recipes and stories together.
But I thought, why not take this journey one step further? By inviting you to travel with me, to share these magical experiences, as we cook overlooking vast plains, hills, and oceans while making new memories together.
Are you longing for an immersive and enriching experience like no other, with a rich culture and people, fresh and sumptuous food, while surrounded by breathtaking natural beauty? Join me at our unique cookery retreats across Africa and beyond.
With a fine mix of luxury, home comforts and sustainable living, we will enjoy this great continent while also looking after it and giving back. A memorable adventure is just moments away!
---
AFRICANA RETREATS
An immersive experience combining spectacular food, culture and nature. With a 5 star hotel in the bustling city and an exclusive ocean facing 100% solar powered lodge in a coastal village for us to repose, explore, immerse and be inspired.
Heartwarming words from our guests
"The trip of a lifetime! The food! Oh, the food! Fresh, organic and prepared to perfection!
Excellent host and amazing company. Lerato thought of it all. So many different flavours teased my palate. Her team were amazing and catered to my every need. Thank you for the wonderful memories."
Diunde Smith, from Bermuda
"With careful attention and love on Africana Cookery Retreat, the variety of food prepared by Lerato and her team was scrumptious and the accommodation was excellent, tucked in a secluded breathtaking location with awesome scenery.
I highly recommend this cookery retreat to all. Go and explore the beauty that Africa has to offer."
Emily, from London
"Ghana, the food, the company all made for a great time. Everyone loved their gifts. They are asking about the food. They want me to cook some of your recipes. I loved that you chose such a beautiful and tranquil lodge.
I loved the food! There wasn't anything I didn't like. The excursions gave me a
good insight into the diversity of Ghana."
Marilyn, from Bermuda
Join us in Ghana! ~ 1st - 7th March 2024
Africana Retreats include group tours and private tours. For our group tours, because I love keeping it small and intimate, with all your needs attentively looked after, our retreats are limited to only 10 spaces. With a growing team on the ground in Ghana, we have created a memorable retreat for you. Those on the waiting list and our paid club members are given a chance to book their spots early as they are the first to receive the brochures for our forthcoming retreats.
To find out more and to book your place, click the link below and make sure you are subscribed to be notified early of future destinations and dates.
I am so excited! Are you ready to join me for an experience of a lifetime?
---
---
👩🏽‍🍳 Read about: Cook With Lerato & catch up on previous posts here
❤️ Are we friends on socials? Say hello and tag me when you cook my recipes
☀️ Find me here: Instagram | Facebook | Twitter | Pinterest | Africana Retreats
---
Enjoy my letters? Hit the heart button above or below and share with family or friends who will enjoy this. Thanks for reading today.
---