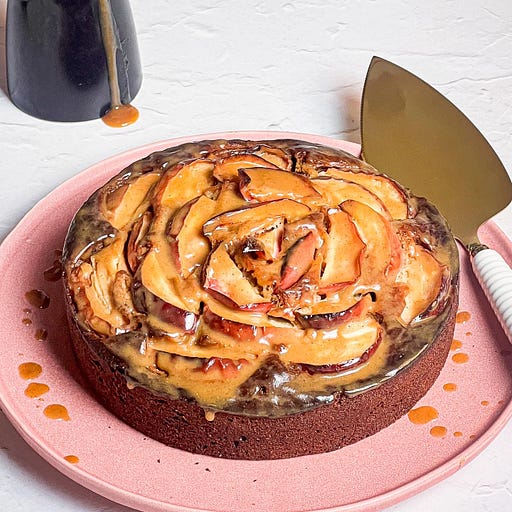 Dec 25, 2021 • 0M
Tipsy Toffee Spiced Apple Cake
A Christmas treat from my family to yours!
Listen, Bake & Share
Your subscription helps to keep this newsletter alive and thriving! To enjoy exclusive content & free cookery classes available to our paid subscribers, do consider subscribing or upgrading your subscription here.
---
A Christmas treat from my family to yours!
I love mixing the cocktail of cultures in my family to create wonderful food and memories. Apple kuchen (Apfelkuchen) is a favourite of ours, especially my German mother-in-Law, Ingrid and I have been inspired to create a version with wondrous spices and a decadent tipsy toffee sauce with a South African cream liqueur made from marula fruit, famed for making elephants tipsy. I made this recipe originally to be featured in Pflanzenfreund (Plant Friends) - a Swiss/German magazine who also kindly featured me in their December print. See the magazine feature here in German.
As always I encourage you to swap ingredients to suit your diets and availability. For a non alcoholic toffee sauce simply use cream instead of the cream liqueur if you don't want to end up like the elephants in South Africa.
My family and I will be tucking into this cake alongside some puff puffs (drop doughnuts popular in Nigeria. Gasp!!! I just thought of another recipe!!!
I've left you a little voice message. Click above to listen. Gotta go prep some food and cook Jollof, after mass ofcourse!
Thank you so much for your love and support. I can't wait for us to do great things in 2022. I wish you lots of love, joy and peace, now and always. Merry Christmas dear ones!
Lots of Love,
Lerato x
---
Something funny from the inter-web, from Gransnet to be precise. (Don't ask what I was doing on gransnet) The most hilarious guide to the perfect Christmas.
---
Veganuary 2022
Will you be going plant-based this January? Are you becoming vegan or are you eager to learn to cook and eat more vegetables and plant bases ingredients? We have been working on some amazing recipes for Veganuary. The month-long celebration of vegan foods. Get ready for fabulous ideas for plant-based cooking with an essential guide and recipes to inspire your cooking not only in January but all year round.
---
Join our Cookery Classes in 2022
As we are mostly tucked indoors once again, it is important more than ever to remain connected, and our immersive virtual cookery classes are a great way to socialise with other food lovers from all over the world, while learning to cook fabulous recipes. In 2022 we will be back with a celebration of plant-based cooking in January and a fabulous feast of chocolate and spices in February. Recipe kits are available for UK addresses only. *Free classes are available for paid subscribers. Subscribe Here
---
More festive recipes
Stuffed Butternut Squash with Barley, Chickpeas & Ras-el-hanout
Elevate your Christmas Roast with Yassa Roast Chicken
Spiced Apple Pudding - Christmas pudding for Christmas pudding haters
---
More ways to keep in touch:
Instagram | Facebook | Twitter
---
Please share this newsletter with anyone who you think might enjoy it. And do share your photos if you do try the recipes as I love to see your creations. When you tag on socials, include the hashtag #cookwithlerato